4 Steps To Your Real Estate Social Media Marketing Services
Making sure you have a strong real estate social media marketing presence in highly competitive online environments. We have the tools to help businesses succeed and the design and development knowledge to build a powerful online presence.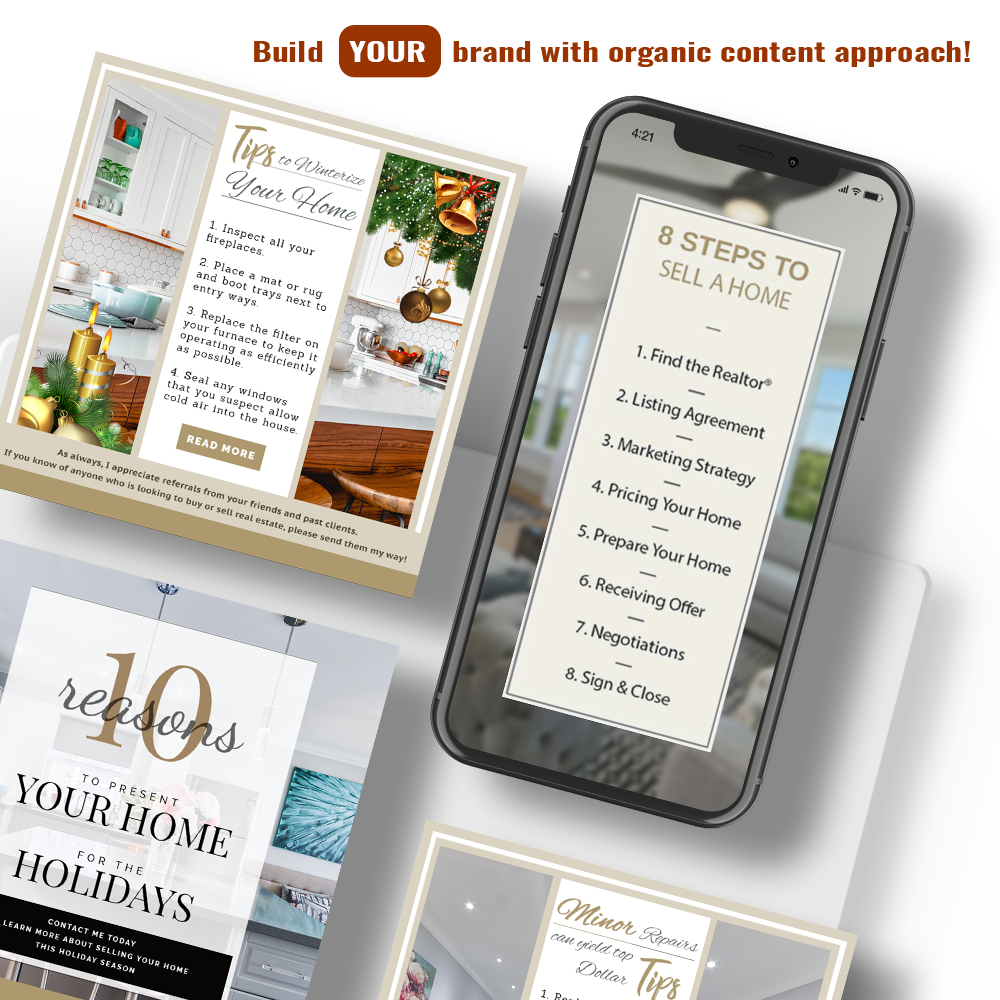 SOCIAL MEDIA MARKETING – STEP #1
Awareness
Brand awareness is crucial in real estate business which allows buyers and sellers that are searching online to see you as a brand which will provide them expert level of service anytime and every time.
We build your awareness through an organic approach with content…
Inspirational Quotes Posts
SOCIAL MEDIA MARKETING – STEP #2
Engagement
Engagement is extremely important, so that your followers feel like they understand the process, like you, trust you, and do more business with you by buying or selling through you.
Your assigned social media specialist will setup a personalized marketing plan…
Increase your brand recognition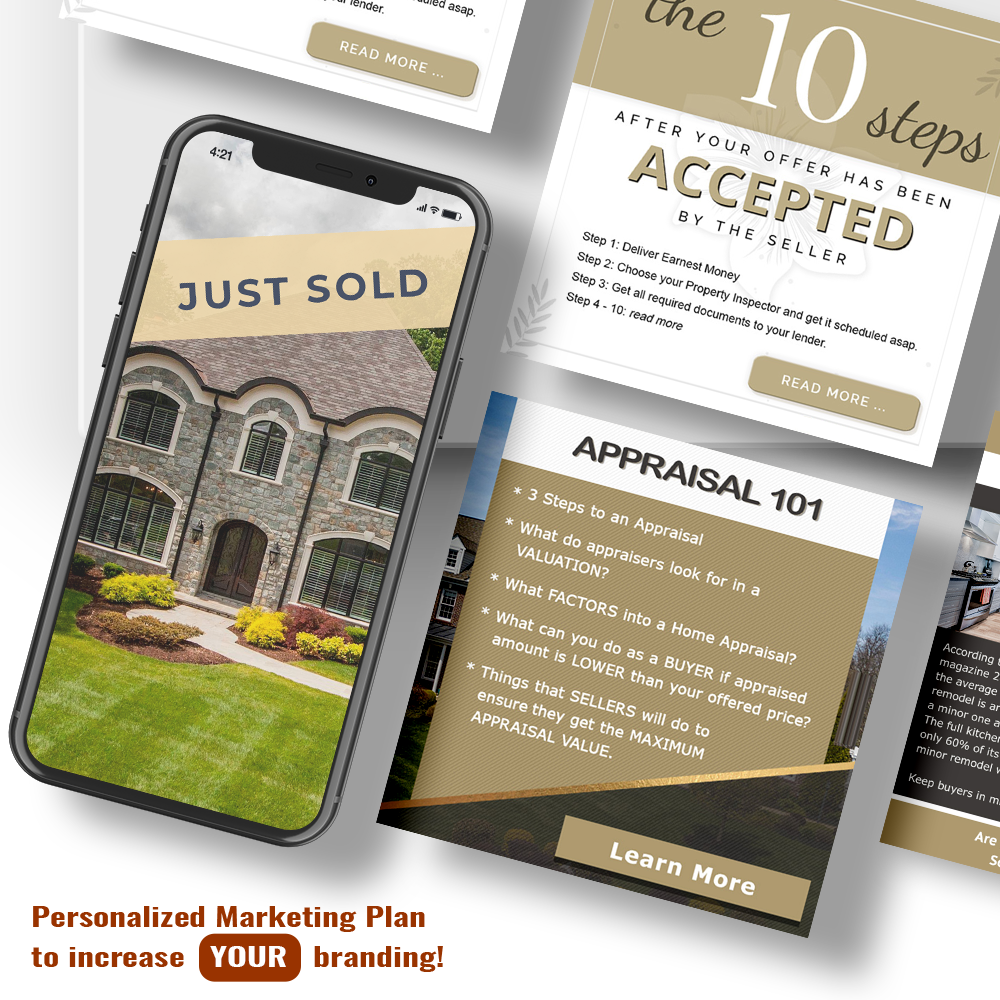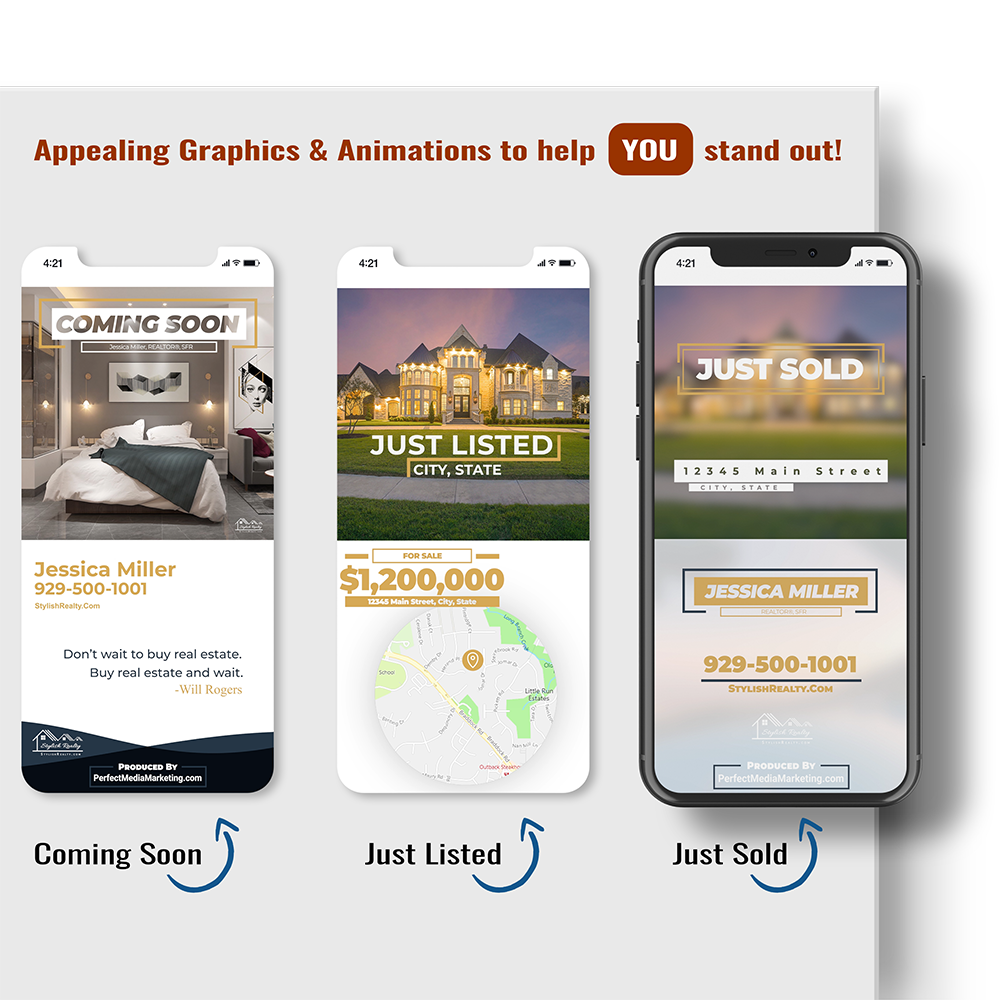 SOCIAL MEDIA MARKETING – STEP #3
Visuals
The more visual content you have for your followers to see, the greater engagement you will have. Great content helps you build a stronger brand and drive more traffic to your website.
Designers will create appealing graphics and animations that helps "YOU" stand out…
Coming Soon, Just Listed, Just Sold Videos

Home Tips & Renovation Ideas
SOCIAL MEDIA MARKETING – STEP #4
Conversions
Social media marketing will help your brand reach your target audience, leading to more qualified leads and conversions as well as engagement. Automation is key to conversions.
Any leads coming through social media or your website will go through set of brief questions…
Easily follow-up with that warm lead

Automatically Send out email with Freebie

Home Valuation Landing Page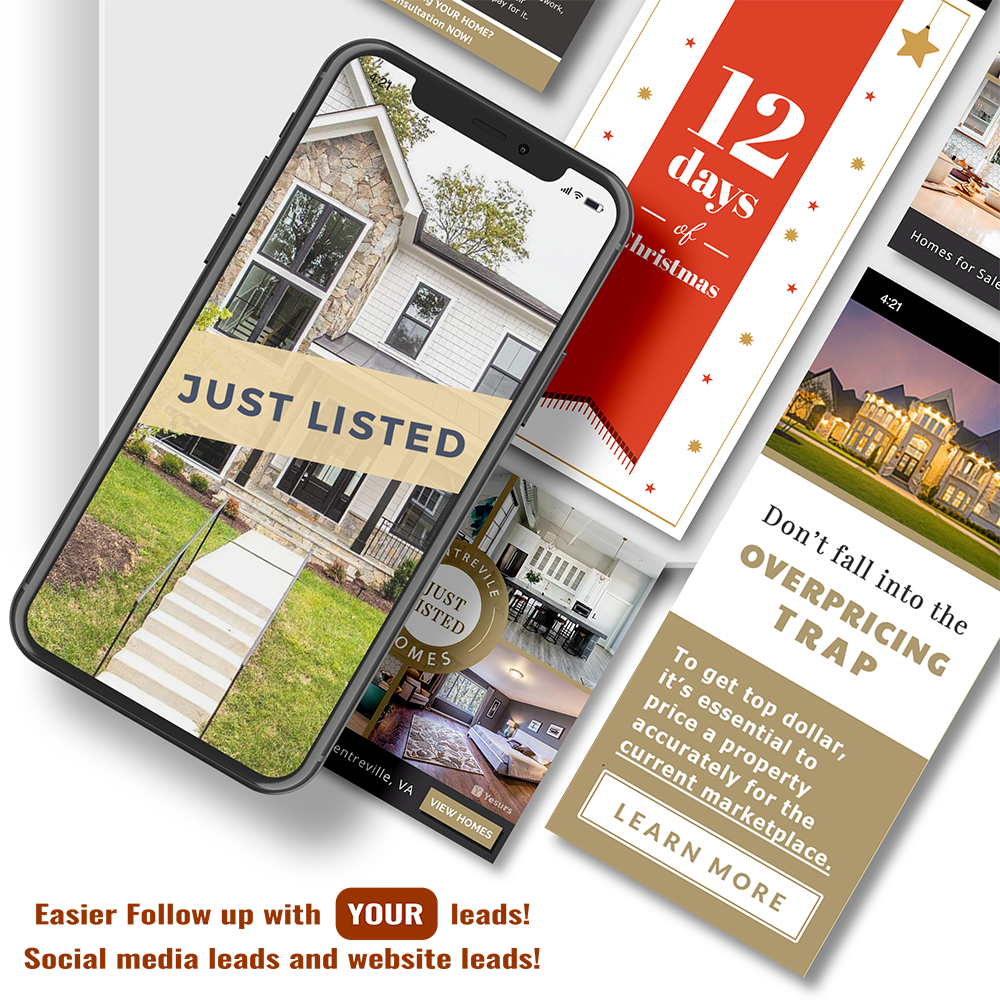 Your Full-Service Digital Marketing.
Building a social ecosystem that connect brands and people through shared interactions.
Social Media Advertising

And More!
Plans & Pricing
See briefly what's included. For details, click "Learn More".

I was very unfamiliar with online marketing. Wanting to maximize profit and online presence their team did not only increase my online presence through targeted Ads and SEO, but also helped with web design, ebooks, guides, blogs, logo design etc., you name it they do it. 247101 very responsive, professional, and knowledgeable. Worth every dollar spent! Hands down the best marketing agency, you will not be disappointed!!

In addition to being highly competent and professional, they are also so much fun to work with. They've helped us
help in the selection, handling, and utilization of the best platforms to match my goals. It's difficult to find a company that does all of those things at a high level, and 247101 does them all! I highly recommend the team!"

They keep us at the forefront of digital, video, and print marketing while guiding us to the upcoming marketing plans and ideas. Their "out of the box thinking" has allowed our team to expand. We are thoroughly happy with everything their team has done to help us grow as a team and in this community.

We have increased our exposure and customer engagement dramatically thanks to them. 247101 is organized, diligent, savvy and always on top of the latest trends. Their team have taken all our previous weaknesses and turned them into strengths with ease. Any person or business that is thinking about trying a digital marketing team, 247101 is the business that needs to be at the top of your list.

247101 was extremely helpful and had a very quick turn around time for getting my website launched. I am grateful to have their tools and support within the start-up process of my new career, they sure took a load off me during this crucial period.

Our realty team has worked with 247101 to complete a number of high quality videos productions. In each case, we have found 247101 to be highly professional videography team and graphic designers have been impeccable, focused and on target; not just in their finished product, but also in their commitment to communicate to us and collaborate with us to produce videos that exceeded our expectations.

They have provided our team with high quality design and speedy service but more importantly 247101 assisted us in making our digital marketing reflect the top quality services we offer. Great results.

They are great professionals working to keep our business growing and taking the time to try to understand what we are asking for. Awesome team, Awesome support!
Patrick Robertson, REALTOR

Amazing Team to work with. Starts with Amber who is quick to respond while the rest of team support the client at a professional level.
Stephanie Holland, Coldwell Banker
Features with details …
DETAILED AND PERSONALIZED MARKETING FOR REALTORS
Account Setup Fee $199 (One Time)
10% Discount Off Included
Dedicated Account Manager

Social Accounts Setup

Twitter
Facebook
Optimized Bio Content
Optimized Header Images
Twitter tweets per year (30 per month – 360)

Content + Hashtags
Market Updates
Open Houses
Listings of the week
Inspirational Quotes Posts

Facebook posts per year (15 per month – 180)

Content + 7 Hashtags
Market Updates
Open Houses
Listings of the week
Inspirational Quotes Posts
Landing Page with Lead Capture on RealtorExpert Portal
Customized Digital Marketing Plan
(Created for your Business)

Monthly 30 mins Consultation to refine strategy and implement new initiatives.
Social Media Ads and Promotion Management (Add-On)

Google Ads
Facebook Ads
Instagram Ads
Twitter Ads
Google My Business
Blog Content Creation (Add-On)
Account Setup Fee $199 (One Time)
10% Discount Off Included
Agent Website

5 Optimized Lead Capture Pages
IDX/MLS Property Search Capability
Website: Hosting, Maintenance, Support
Responsive-designed Website
Mobile Friendly Website
Leads Capture & Contact Us Form
MLS Integration Pages
Featured Community Pages
SEO – Submit to all Search Engine & SEO Title, Meta, Description Tags Implementation & Ongoing Optimization
CRM Lead Management Integration
Dedicated Account Manager

Social Media Management

Twitter
Facebook
Instagram
LinkedIn

Social Accounts Setup

Twitter
Facebook
Instagram
LinkedIn
Optimized Bio Content
Optimized Header Images
Twitter tweets per year (30 per month – 360)

Content + Hashtags
Market Updates
Open Houses
Listings of the week
Inspirational Quotes Posts

Facebook posts per year (15 per month – 180)

Content + 7 Hashtags
Market Updates
Open Houses
Listings of the week
Inspirational Quotes Posts

Instagram posts per year (8 per month – 96)

Content + 20 Optimized Hashtags
Market Updates
Inspirational Quotes

LinkedIn posts per year (8 per month – 96)

Content + Optimized Hashtags
Market Updates
Listing Related Video
Listing Slideshow Videos (8 per month – 48)

Agent Branded MLS Ready Video
Post on Facebook
Post on Twitter
Post on Youtube

Monthly eNewsletter to your Clients

Agent Branded Template
Listings of the week
Videos
Market Report
Open Houses
Inspirational Quotes Posts
Landing Page with Lead Capture on RealtorExpert Portal
Customized Digital Marketing Plan
(Created for your Business)

Monthly 30 mins Consultation to refine strategy and implement new initiatives.
Monthly Performance Review with Dedicated Digital Marketing Analyst
Social Media Ads and Promotion Management (Add-On)

Google Ads
Facebook Ads
Instagram Ads
Twitter Ads
Google My Business
Blog Content Creation (Add-On)