Tear Off Cards & Rip Business Cards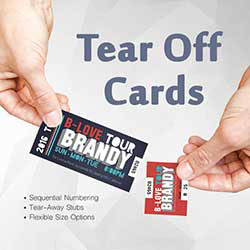 Easily engage customers in your marketing campaigns

Who can use Tear Off Cards? Any creative professionals, realtors, insurance agents, musicians, charitable organizations, companies who often hosts special events, restaurants, auto dealers, and more.

When can the Tear Off cards be used? In any of the following scenarios; appointment cards, event tickets, raffle tickets, real estate listed properties, postcards with coupons, date announcements, special events, business cards with more info, multiple coupon offers, special offers, rsvp invitations, membership cards, raffle tickets, door hangers, magnetic card for refrigerator and a lot more.

Using Tear Off Cards or Rip Cards, you can increase your customer's engagement in your marketing campaign. The tear off cards allows you more advertising space, and allows you to attach a discount or a business card for them to use. Since your tear off card has perforation, it allows fun and interactive way for your customers to engage with you.

Anyone wanting to promote their brand, event, product or service can easily incorporate tear off cards marketing.