Tri-Fold Brochures & Pamphlets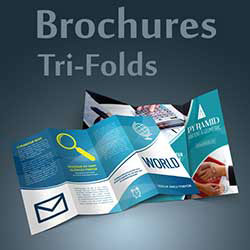 Cost effective product having professional look

Tri-Folds are a simple yet professional brochures to represent your company and its services and products.

Tri-Folds are also great way to educate your leads and consumers either about your company, or services that could be related to those consumers to attract them towards your products, convince them.

One of the benefit of having tri-folds/brochures is that they can be laid on a coffee table after you leave, which can stick out above all other materials constantly reminding the viewers of the smart choice to go with your products and services.

One of the cost effective product to design and print, yet having professional look to your items is the brochures and tri-folds. Make sure that it has proper design and content, so everyone who walks by takes one. Create an eye-catching cover! Use an effective call to action for the best impact.

Use proper format so that you can showcase your products, services and company with appropriate style, effectiveness and readability.