Custom Yard Signs & Lawn Signs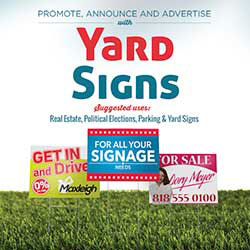 Provide the visibility to deliver your content
Regardless of size, style or purpose, the yard signs should be quick and simple to reader's eyes while keeping it informative.

It can assist in delivering your message efficiently, affordable, and quickly!

Yard Signs motivate people to look up your product or service.

Yard Signs are low in cost and high in reward if done properly. Small to big businesses can use this marketing item to generate business efficiently.

If proper usages of yard signs is combined with full business presence on social media, business can generate full force of leads.

Design of your yard signs is extremely important. Only keep the needed info on the signs; simple message and specific message leads to good results. The Bigger The Better in terms the letters and your content for others to understand your message from a greater distance, after all it's a yard sign.