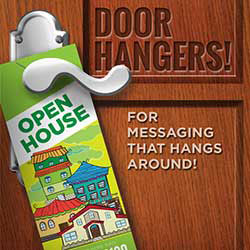 Make it professional, attractive and memorable
Door hangers marketing is quick, easy, affordable and highly targeted. They're quick and straightforward, meaning they don't need envelope, postage, foldiing, binding, or any other binding to prepare them for distribution.

Since door hangers are distributed door-to-door, they're not out of sight or out of mind. The homeowner will have to remove the door hanger from their door knob, hold it, carry it, and finally act upon it. You can do target marketing with door hangers properly since they're reaching your target audience.

Door hangers are relatively cheaper than other marketing such as television ads, website ads, or any other marketing company ads. A big positive in door hanger is that the item is tangible. The viewer has to act upon it, rather than other ads which is only heard or viewed for short amount of time.

Well designed door hangers with appropriate content which is pertinent to the viewer can generate lots of leads. So keep it simple, but have a compelling message for the marketing campaign.

Custom door hangers are a great way to get the word out for your next advertising campaign. We can produce a variety of creative designs, which can be provided on different papers, coating, and DieCut options.