Postcards & Direct Mailing & EDDM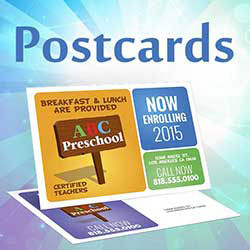 Postcard marketing is affordable, effective, and scalable

Postcard marketing is affordable, effective, and salable, even for the smallest business.

Postcards are versatile, and used for many good reasons. It can be used to get perspective customers, and solicit repeat business from existing customers. It can be used as an over-sized business cards, hang tags for your products, mini information sheets, handouts, flyer, product brochure, rsvp card, and newsletter.

Postcards are not mailed in envelopes, so viewers don't need to open any envelope to read your message; its in front of them. Continuing the consistent marketing can also gain reputation and perhaps even a little fame along the way.

Postcards build connections, and your brand. Keeping the design short, simple, and sweet is highly recommended for the best impact. When message is delivered properly, it increases the changes that your message will be remembered down the road when your consumers are ready to listen.

Postcards are highly targeted to reach their intended audience. They're also cost effective, attention grabbing marketing tool, and highly versatile.